Portfolio
Published: 03/15/2017
Comming soon...
Published: 02/23/2017
Coming soon...
Published: 11/01/2016
ChristianJuth.com is a Sinatra web app that incorporates GruntJS, TravisCI, and many other technologies to create a seamless development to production environment. Installing the project is as simple as cloning the git repo and running npm install. Once all the desired updates are made, the project is committed and pushed to Github. From there Travis picks up the commit, tests it using cucumber, and pushes it off to Heroku. This makes it very easy to allow other people to work on the project without having to learn how to use Heroku, and it ensures the application still works before it gets deployed.
Behind the Scenes
ChristianJuth.com is a complex Sinatra application based on another project I created Sinatra Start Point. Sinatra Start Point is the foundation for every Sinatra project I create. Currently, I have made a bunch of improvements to ChristianJuth.com that I intend to merge back into Sinatra Start Point. After every project I build I assess what makes it better than the last and merge that into Sinatra Start Point. This workflow ensures each project I create is better than the last.
Travis
TravisCI is a hosted, distributed continuous integration service used to build and test software projects hosted at GitHub. Travis is like a team member who has my back and is always double checking my work. The last commit of this website was
.
Published: 10/08/2016
150 Hours is an album written by my band, Anything Goes, during the summer of 2016, at the Original Music School. The album has an alternative sound and draws influence from Coldplay, Led Zepplin, and various other places. We wrote the entire album at a summer boot camp at the music school. At the time the band consisted of just me and my friend Coby. We spent hours in the studio writing and recording. It took us a total of 150 hours to finish the album, and that is where the title comes from. We added a few other band members for our final gig on October 8th. I not only learned a lot about music during this project, but it took a lot of teamwork and leadership.
Stumblin' Under Thunder
Stumblin' Under Thunder is a track inspired by Led Zeppelin. The lyrics and arrangement are both inspired by Fool in the Rain.
3 Seconds
Althouth the song has a heroic theme do not be fooled. The idea for the song came from one of my favorite non superheros Deadpool.
Lone Wolf
Lone Wolf is about an outcast. Someone who has been forgotton by their kind. Eveyone feels like they are unwanted at some point in their lives, but sometimes all they have to do is, "make the climg home."
Stuck at Work
Never Call Me Again
The Full Album
Eveyone song in the album has a story behind it, and represents moments from our own lives. You can find the album on iTunes, Spotify, Amazon, and various other places.
Published: 12/01/2015
Mathbrainius is an online, highly interactive, and visual platform that helps students understand important math concepts. Students learn strategies that greatly simplify complex problems.
What I did
Durning the Fall of 2015 I built the entire web app that was presented to the National Science Foundation (NSF). Initially, I was only asked to design the app, but I was so confident in my ruby skills I offered to build the entire web app using Sinatra. Every day after school I would log some time working on the project. It was hard work. But it paid off. This was the most involved I had ever been at any job since I was a key component to getting the NSF funding. The company was very happy with my work, and the NSF were very impressed with the presentation. The project received the funding, and they are currently working on the consumer product.
Testimonials
Best interface we have ever seen

National Science Foundation
Published: 08/01/2015
Durning the summer of 2016, I took a two-week course at the Flatiron School. The goal of the course was to take high schoolers with experience in front-end coding - like me - and teach us how to build Sinatra apps. Durning the entire program, I build three or four working projects. At the end of the program, they divided us up into teams and challenged us to plan, design, and build working web apps. My team and I went back and forth on a few ideas, but we finally settled on a tool to manage Spotify Playlists.
The Problem and Our Solution
At the time, Spotify did not offer song suggestions for user created playlists. I often found myself not sure what songs would fit the theme of the playlist I was creating. The solution: Playlist Forge. Playlist Forge took this idea and made it a reality. Users would log in with their Spotify account, create a playlist, get song suggests based on other songs in the playlist, and export their playlist back to Spotify.
The idea seemed simple enough, but we had been using Sinatra for less than two weeks, and none of us had any experience with APIs. We had less than 48 hours to design, build, and present our app to the rest of the class. The project came together like clockwork in the end, and we finished with no time to spare. If it were not for out teamwork and trusting one another, there is no way we could have pulled it off. Playlist Forge is still functional but in demo form and is not a final product. Spotify recent added this idea to their own application, so I can proudly say that we designed a feature Spotify adopted.
The Interface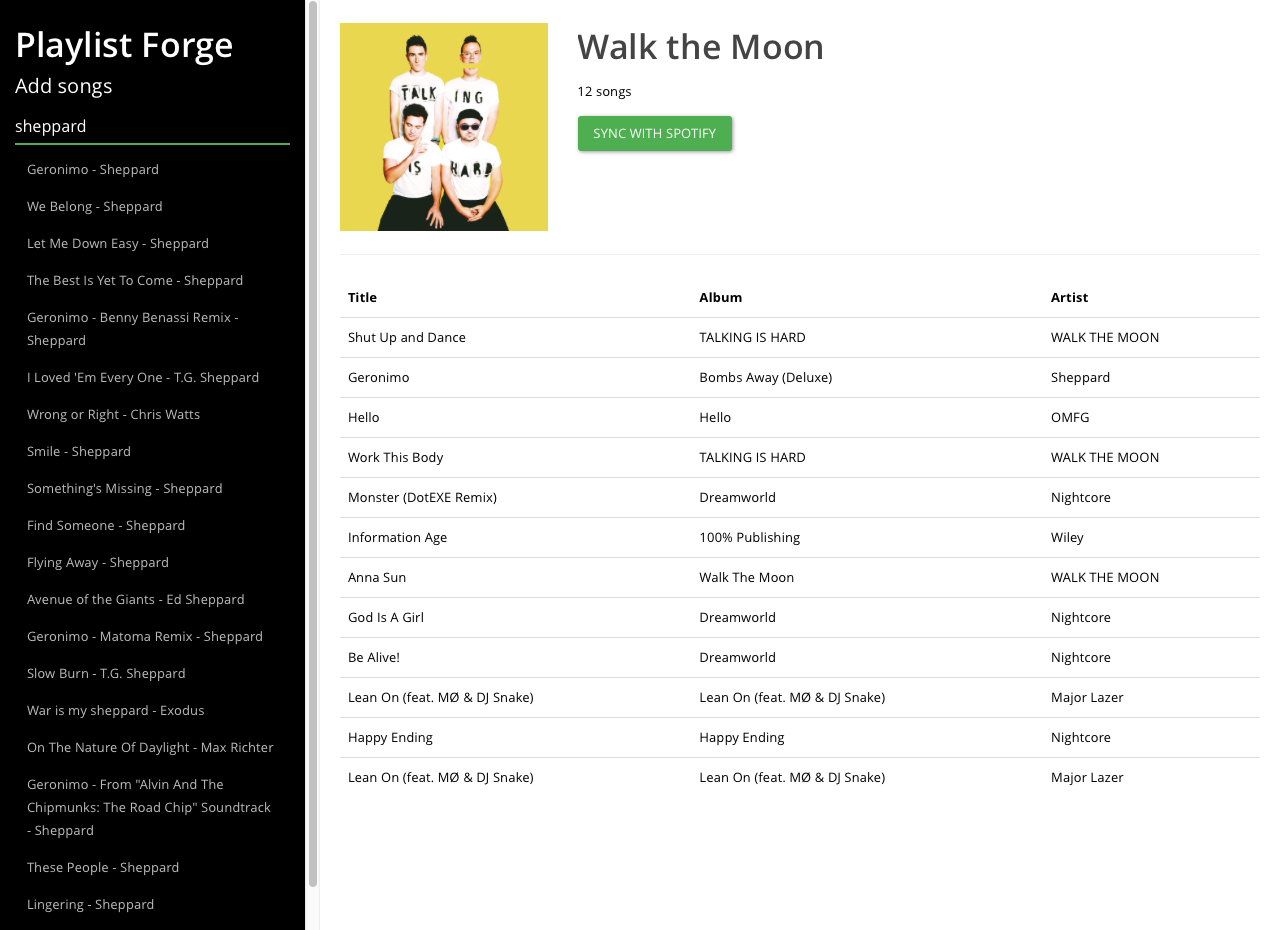 Published: 03/01/2015
Extension Framework was designed for building Chrome, Safari, and Opera extensions in one, as well as providing a file structure with grunt setup and ready to go. When creating new projects, getting started was always an issue, with no defined file structure and different requirements for Chrome and Safari. After cloning the sample project, you can be up and run in seconds.
Important
This project is currently not being maintained, but I plan on revamping it shortly. Probably sometime in 2017. The project itself should still be fully functional, but plugins can not be installed.
Published: 10/13/2013
FlatCal is the second Chrome Extension I launched on the Chrome Webstore and the first big step I took in developing my web design skills. FlatCal took the simplest idea, a calculator, and made it the most customizable thing ever. FlatCal comes with eight built-in themes and the option to design your own. The purpose of FlatCal was to create a simple, elegant calculator you can use from your browser.
Why I built FlatCal
I found myself writing papers on Google Drive and doing research on Google. Because of this, I decided having a calculator at my fingertips all the time would be useful. After a quick search on the Chrome Webstore, there was nothing that worked well and looked half decent. I had found my calling. I undertook the responsibility of creating a calculator that is elegant in design, customizable, and works. Here are a few things FlatCal users have said.
Reviews
GREAT calculator!!! It works flawlessly and is exceptionally well designed and attractive... is easily the best!

FlatCal Review

Looks great and works well.

FlatCal Review
Some Numbers
FlatCal currently has over 2,200 users, 143,000 sessions since it first launched, and users in almost every country on the planet. FlatCal has generated 38 reviews and maintains a perfect five-star rating.
Just in case you were wondering this was the first extension I built.
Published: 10/04/2013
This was the first Chrome Extension I built. I saw an issue, and I created the solution. At the time there was no way to express a sense of accomplishment in your browser. When someone did feel a strong sense of accomplishment they would throw down their expensive gaming headset. If that seems oddly specific that's because it is a true story. The Easy Button Chrome Extension solved that issue. It gives you an easy, non-destructive way to express a strong sense of accomplishment. I could go own, and on about the world issues, this solves, but here is what my users say.
Reviews
Makes my life so much easier. Now when I accomplish a simple task on the computer, instead of having to reach across my desk and hit my real "that was easy" button, I simply click the one on my computer!

Theo MacMillan

I don't know why I downloaded this...but this button is awesome XD

Crazygamergirl

The greatest thing since the actual easy button.

William Mild